Stanier 8F Bundle

The Stanier 8F - regarded by many as one of the most successful freight locomotive designs - receives the 'Ehancement Pack' treatment with this collection of packs.

Pack Contents
No fewer than 8 different variations on the Stanier 8F locomotive. Features every livery they ever carried(excluding WD examples). The loco's are as follows:
The 1927 version of the LMS lettering and numbering on the tender and locomotive. Clean and lightly weathered versions included. Loco numbers represented are: 8010, 8035, 8038, 8042, 8173, 8334, 8111, 8460, 8490.
In the 1936 the style of lettering and numbers changed slightly. Again, both clean and slightly weathered loco's are represented. Numbers are: 8026, 8071, 8079.
Another change took place in 1942, with the numbers changing position on the cab side. This batch is represented in this pack as numbers 8080, 8182, 8206, 8316, 8411, 8743. Run the 1936 tenders behind these loco's.
Yes you read that right - LNER! The Stanier 8F 2-8-0 had been chosen by the War Department to be its standard heavy freight locomotive. As a result, 60 were built by the LNER between 1943 and 1945. These were considered LMS stock and numbered as such (LMS Nos 8500-59). These were loaned to the LNER. The LNER subsequently chose to build some of the design for themselves and they were classified as LNER Class 06 locomotives. 9 different Class 06's are represented here: 3107, 3108, 3144, 3146, 3506, 3537, 7576, 7659, 7670. They appear in clean and lightly weathered conditions. Both LNER and NE tenders are supplied.
In 1948 the railways were nationalised. Before a BR emblem had been designed, many locomotives retained their liveries but had British Railways painted on the tender. The full range of 8F numbers is available with this version. Only in relatively clean condition.
Early Emblem British Railways

The "Cycling Lion" emblem was introduced in 1950. It was used until 1956. Locomotives here represented in clean and lightly weathered conditions. All 8F numbers can be used.
British Railways Late Emblem
In 1956 the "ferret and dartboard" crest was introduced. This was used on locomotives until the Corporate (blue) Livery and logo was introduced. This is the last crest steam locomotives ever carried. Here you can have these loco's in 4 different states of weathering; Clean(ish), lightly weathered, weathered and heavily weathered. Again, all locomotive numbers are available.
In 1957, 8F no. 48773 was allocated to Polmodie depot, in Glasgow. It moved to Carlisle(Kingmoor) in 1963 and eventually found itself at the now infamous 'Rose Grove' shed. The loco worked it's last trains on August 4th 1968, before being withdrawn. The cab-side stripe that this loco, along with many others, carried, denoted that the loco was not allowed south of Crewe, due to overhead cables on the newly electrified WCML. This loco is available to drive in a lightly weathered condition.
Supplied with the Woodhead route are very clean 21 ton hopper wagons. Ben Yates has donated a set of hopper wagon repaints. These are available in four different states of weathering, adding that bit of variety to your freight services over Woodhead. They come with Steam Sounds Supreme custom sounds.
**PLEASE NOTE: You MUST have the Woodhead Route installed for this pack to work**
Watch the below comparison video to appreciate what a transformation this pack provides:

---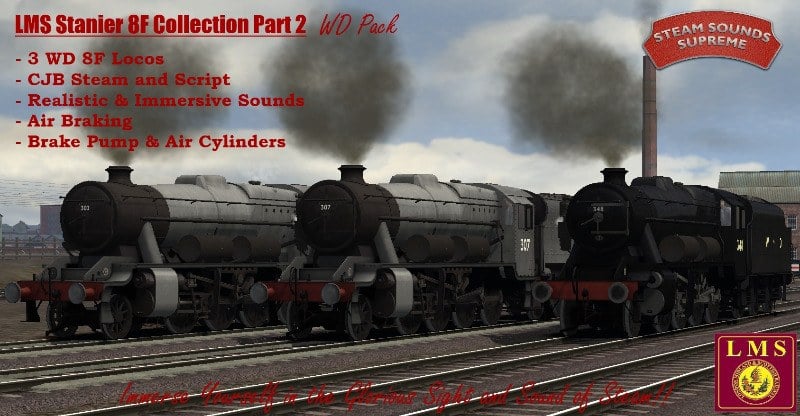 Thanks to the assistance of Ben Yates, Chris Barnes and Brian Yeomans, we are proud to present part 2 of the Stanier 8F Collection. The theme for this pack is WD, meaning War Department. Back in early part of the second world war, the Railway Executive placed orders with various loco works for many Stanier 8F's. This was to aid with the war effort, both in the UK and in Europe. North British Locomotive Company LTD of Glasgow were one such works.
We present in this pack 3 North British WD 8F's - No's 302, 307 and 348. No 348 is in WD Black with yellow lettering and numbers. 302 and 307 are in a striking grey livery, with white lettering and numbers.
The loco's are air braked and come with air brake equipment fitted.
Immerse yourself in a realistic sound set as well!!
***PLEASE NOTE: YOU MUST OWN THE WOODHEAD ROUTE FOR THIS ADDON TO WORK***
---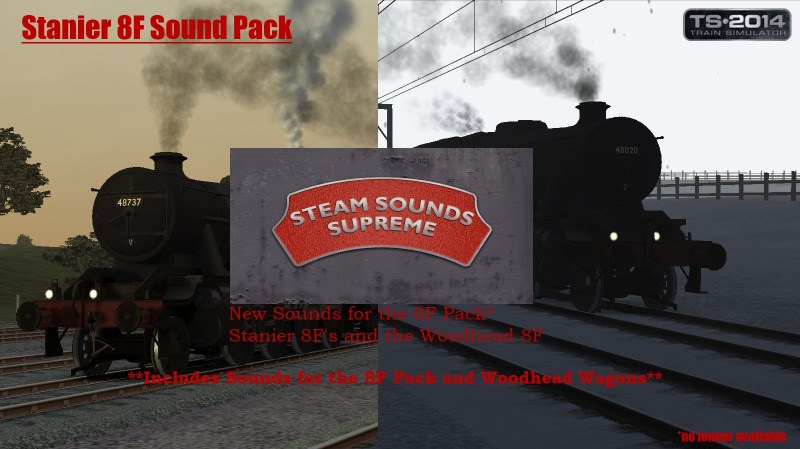 We present the Stanier 8F sound pack, adding all those sounds you should hear from the original locomotive models. Also, as a free bonus, the CJB steam effects are made available on the RSC 8F Pack 8F's, as well as the Woodhead example. also include our custom sounds for the wagons associated with the 8F's.

Features
Pilot and Main Valve on Regulator

Realistic Cylinder Drain Cocks Sounds

Authentic Coasting Sounds

Multiple Whistle Sounds, including: A Long Whistle on the Spacebar and Many Different Short Whistles on Pressing 'B'

Blower and Injector Sounds on Fireman Controls

'Snifter' Valve Accurately Depicted


Advanced Mode - Steam Chest

CJB Advanced Steam Effects

Custom 8F Pack and Woodhead Wagon Sounds